What comes to your mind when you hear the words Dominican salon?
In the U.S., when we think of going to the Dominican salon we visualize going in with coarse, "hard to manage" bunches of tight curls and kinks and coming out with a mane that is so silky and straight that it flaps every time the wind blows. As a child, anyway, this is what I pictured–before growing and becoming educated and embracing of my true hair texture.
When my mom found out I was skipping my monthly relaxer appointments that she had scheduled for me, there was no other way to restore my hair to a 'nap-free situation' without paying a visit to a highly acclaimed Dominican salon. Sure enough, as soon as I walked in, the lady sat me down in her chair and assured me that "we're going to fix this mess today!" I exited the salon with zero evidence of any kink or curl in my hair, which was praised as a major win back then.

Challenging what's normal
In spite of the longstanding Dominican salon ideal, Miss Rizos Salon is changing the idea that beautiful hair must be straight and fine.    Located on Calle Isabel La Católica in Santo Domingo, stylists at Miss Rizos Salon have expanded their list of services to include more than just chemical relaxers and flat ironing the hair.  Owner Carolina Contreras, 29, has clientele from all over the world paying her a visit and according to Candace Lai-Fang from Washington, D.C., "Contreras is the real deal."

How the connection begun
"I had to come here because I wanted my hair done by people who knew what they were doing," said Lai-Fang. In her district, there's a Dominican salon on pretty much every block throughout the overly crowded neighborhoods. Ironically, the majority of people who reside there are considered part of a minority race. Upon being asked the inspiration behind her brave decision to stand out from a vanilla saturated, and extremely antiquated portrayal of beauty, Contreras pointed to a blog and kickstarter campaign she started to meet the needs of the Dominican people.
"I would walk down the street and women would stop me and ask how I got my hair like that," the salon owner says of the reactions she received after chopping off her chemically treated hair. "I was fighting with all my heart something I still could not fully understand or believe…I then realized I was not the only Dominican who felt this way."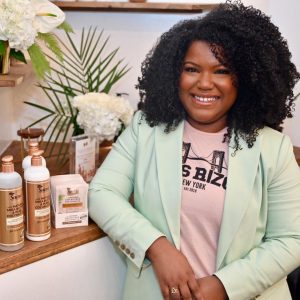 Creating a 'no boundaries' hair care industry in Dominican Republic
While rocking a TWA and experimenting with at-home recipes consisting of natural ingredients to maintain the health of your rediscovered, real hair texture, Contreras felt an urge to share with her own community of women and children who might have been afraid to take the leap into the journey of natural hair. A Ten thousand dollar IndieGogo post later, along with other donations from friends and family, Contreras swung open the doors of Miss Rizos Salon.
What does the success of Miss Rizos Salon services, clientele, and hair care blog mean for Contreras? "What began as a space for Dominican girls has become a space that has no boundaries. [I am] forever grateful for this experience [to] keep a link with the island that can not break away."